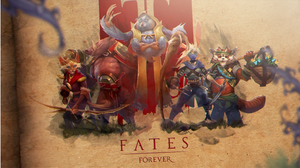 The Patch notes for v2.0 were released on April 15th, 2014 on the Hammer and Chisel forums. The Patch notes included the following changes:
Current Contestants
Edit
Dim, The Solar Mole

Maximum mana per level increased from 54 to 64
Base mana regeneration from 1.45 to 1.7
Cottontail, The Bandit Hare

Cottontail received a Visual Upgrade
Base Attack Speed reduced from 1.3 to 1.4
Attack Damage per level reduced from 3.5 to 3
Dash Series

Each dash now deals equal damage (previously, the first dash did most of the damage)
Cooldown increased from 12/11/10/9/8 to 12/11.5/11/10.5/10
May, The Radiant Lynx

May received a Visual Upgrade
Base Health Regeneration per second reduced from 1.25 to 1
Radiant Seeker removed
New Items
Edit
Cracked Trinket

Stats: +0.6 Mana Regeneration per Second

Faith Stone

Stats:+2 Health Regeneration per Second, +1 Mana Regeneration per Second

Sanctuary

Stats:+20% Cooldown Reduction, +75 Armor, +3 Health Regeneration per Second, +2 Mana Regeneration per Second
Current Items
Edit
Jungle Critters will now level up twice as fast
New items (see above) specifically tailored to facilitate junglers
Health and Attack Damage of both the melee and ranged Jungle Critters have been slightly increased
Unit collision has been disabled. Contestants will still collide with structures and walls.
New Victory screen
Play Online (PvP) mode is now locked to Players under Level 5
New Co-op vs. AI play mode introduced
Newly designed in-depth Tutorial hub
Complete redesign of the App, which includes:

Redesigned party system; now allows you to text-chat with your party or browse the App while in queue for a match.
Easily accessible, slide-out friends and alert menu
Taller leaderboards list
Current forum topics list

New music
Contestant's lores are now visible in the shop
Resources
Edit
Ad blocker interference detected!
Wikia is a free-to-use site that makes money from advertising. We have a modified experience for viewers using ad blockers

Wikia is not accessible if you've made further modifications. Remove the custom ad blocker rule(s) and the page will load as expected.