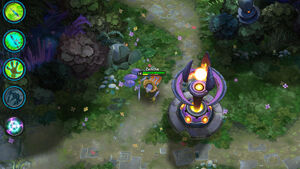 The Patch notes for v1.14 was released on February 20th, 2014 on the Hammer and Chisel forums. The Patch notes included the following changes:
Location of the four outer towers have been moved closer to each teams respective base
Moved the placement of the brush in the top lane
The width of both lanes have been increased
Tooltip changes:

Pressing and holding on any ability or relic icon will now reveal a tooltip providing information about the skill or relic. Tapping the text box will manually clear the tooltip, otherwise they will automatically disappear after brief delay.
Resources
Edit